Unnatural Creatures
Limited Edition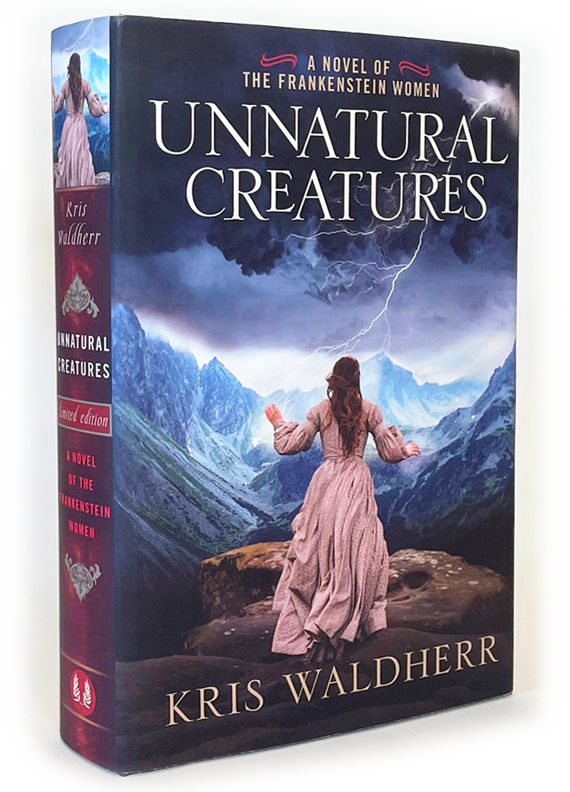 $55. Hardcover book alone. Price includes insured and tracked U.S. Priority Mail shipping.
Sorry, shipping to other countries not available at this time.
NOW SHIPPING.
We're pleased to offer an exclusive signed and numbered limited edition hardcover of Unnatural Creatures: A Novel of the Frankenstein Women. This one-of-a-kind book has been personally designed by Kris Waldherr and includes the entire text of Mary Shelley's Frankenstein and other special design features: a custom map of Geneva, a frontispiece illustration, a custom full color binding, and wraparound dust jacket. Read prologue and first two chapters (pdf).
Limited edition of 300. 560 pages. Hardcover. 6×9″ trim. 
OTHER AVAILABLE EDITIONS: Trade softcover, Library hardcover, e-book, and audiobook.  Learn more.
Advance Praise for Unnatural Creatures
"Lushly atmospheric and rich with historical authenticity, Unnatural Creatures is a riveting Gothic tale that I devoured in one sitting . . . An inspired reimagining that was impossible to put down."
–MIMI MATTHEWS, USA Today bestselling author of The Siren of Sussex
"Eerie, romantic, and exquisitely written, Unnatural Creatures is a brilliant and feminist companion to a classic. Kris Waldherr's electrifying novel brings the women in Victor Frankenstein's life to the foreground, reminding us that the most interesting stories are often the ones that go untold."
—MEGAN COLLINS, author of The Family Plot
"In a masterful Gothic rendering, Unnatural Creatures reimagines the classic tale of Frankenstein through the eyes of the story's hitherto silent women . . . Mary Shelley herself would be deeply moved by this dark tale of revenge and redemption."
—STEPHANIE MARIE THORNTON, USA Today bestselling author of And They Called It Camelot
"In Unnatural Creatures, Kris Waldherr deftly uses the political climate of late 18th-century Geneva to add depth and nuance to one of literature's best-known stories of one man's folly, but it is her choice of protagonists—the three women closest to Victor Frankenstein—that truly elevates her work. Waldherr takes her main characters out of the mire of victimhood and gives them voices of their own. Idealized by Mary Shelley's eponymous protagonist, in Waldherr's telling each woman becomes a complicated human being, each strong in her own way, each full of passions and neuroses, morbid fascinations and love in all its forms . . . With settings so lush you can practically see, smell, and touch them, Unnatural Creatures, like the novel that inspired it, is a richly atmospheric work of Gothic wonder."
—MOLLY GREELEY, author of The Heiress: The Revelations of Anne de Bourgh and The Clergyman's Wife
"This is the feminist reimagining of Frankenstein you didn't know you needed. Waldherr reanimates the story from the perspective of its three central female characters—Caroline Frankenstein, Elizabeth Lavenza, and Justine Moritz—creating a tribute to the strength and resilience of women that would make Mary Shelley proud."
—CLARISSA HARWOOD, author of The Curse of Morton Abbey and Impossible Saints 
"Luminous, strange, and haunting—Unnatural Creatures is a fitting tribute to Mary Shelley's masterpiece, written by a true artist who understands that enlightenment can come from darkness. Waldherr's latest is a rich feast for fans of the gothic novel and for those who like their literature a little eerie, a little unsettling."
—LIBBIE GRANT, bestselling author of The Prophet's Wife
"Elegantly written and inspired, Waldherr's latest is a sensuous and empathetic look at the three women who knew Victor Frankenstein best. Fans of the original will find much to love in this fresh imagining of the classic tale. A veritable tour de force!"
—PAULETTE KENNEDY, author of Parting the Veil
"In Unnatural Creatures, Waldherr transforms the women of Mary Shelley's Frankenstein from victims into protagonists. Passing the torch of her suitably dark Gothic tale between the mother, the betrothed, and the servant, she sheds new light on one of literature's most famous stories in an atmospheric novel, which contrasts the unnatural act of Frankenstein's monster's animation with the maternal act of creation."
—FINOLA AUSTIN, author of Bronte's Mistress
"In Unnatural Creatures, Kris Waldherr gives sparkling voice to the women surrounding Victor Frankenstein and his monstrous creation, and in so doing deftly explores the roles of women as creators, caretakers, lovers, and survivors. Whether you're a devoted Mary Shelley fan or have never read Frankenstein, don't miss this masterful retelling. It's the kind of book that traps you within its pages and won't let go—as a good gothic novel should!"
—ALYSSA PALOMBO, author of The Spellbook of Katrina Van Tassel