Lots going on at Chez Muse! We're delighted to announce that we've sent out all Kickstarter Unnatural Creatures digital rewards, and are currently shipping out print books well ahead of schedule. Softcover books are all out in the world; limited editions and hardcovers are going out in the next week or so. (Hooray!) In addition, advance reader galleys of Unnatural Creatures are available for request on NetGalley to qualified media professionals, book sellers, and librarians. Learn more here.  
In other news, reviews are starting to trickle in for Unnatural Creatures on Goodreads—and they're all glowing with a weighted average of 4.95 stars: "Yesss! This book is everything you want for the spooky season!" View Unnatural Creatures on Goodreads. 
Last but definitely not least, audiobook masters for Unnatural Creatures will be arriving for review in the next week, keeping us well on schedule. We're thrilled that Unnatural Creatures will be narrated by Audie-award winning performer Barrie Kreinik! Barrie's previous audiobooks include Jennifer Saint's Ariadne and Brom's Slewfoot. Listen to excerpts from Barrie's audiobooks.


May 15, 2022: The Unnatural Creatures Kickstarter has come to an end—we're so grateful to our incredibly generous backers! Next comes the exciting task of printing and shipping out early bird access books. Our current delivery estimates are as follows:
Ebooks and digital assets: late May 2022
Print books: July 2022
Audiobooks: September 2022.
We still have copies of the Limited Edition available for purchase. Learn more here. 


April 19, 2022: The Unnatural Creatures Kickstarter is officially live! We've already surpassed our modest initial goal and we've been chosen as a Kickstarter Project We Love. 
Our Kickstarter features an exclusive limited edition as well as Early Bird shipping on the e-book, softcover, and audiobooks. They're bundled with some really enticing goodies too! Learn more here.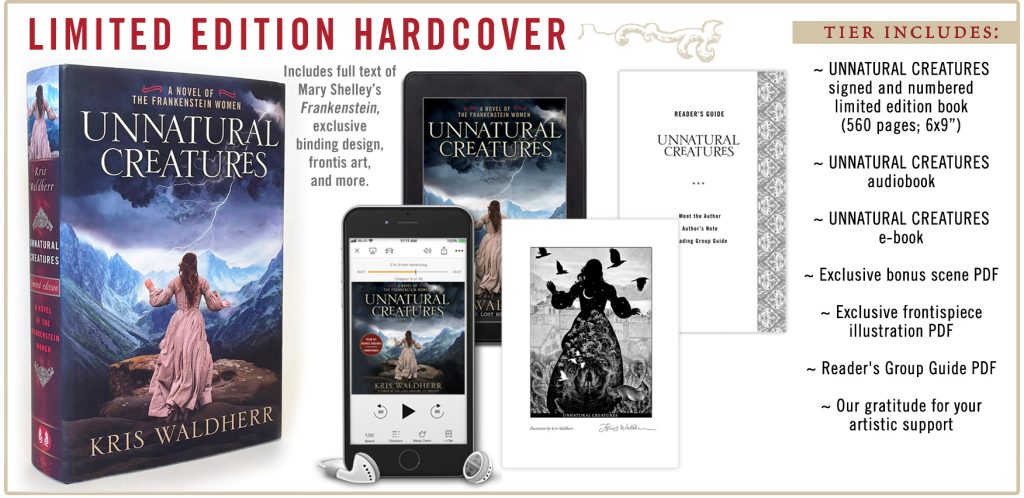 MARCH 27, 2022: If you'd like to be alerted when the Unnatural Creatures Kickstarter goes live, check out this page here. This page also has info about the limited edition, which will only be available there. In addition, those who purchase through Kickstarter will receive early shipping and first dibs on exclusive premiums.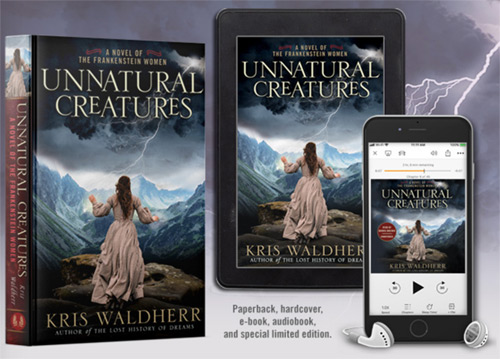 March 16, 2022: Cover reveal for Unnatural Creatures! Plus an early look at the limited edition! Check out the video below. Learn more here.

 MARCH 13, 2022:  Cat's out of the bag! Check out this guest post by Muse founder Kris Waldherr over at The Writer's Circle. We'll also be revealing the cover of Unnatural Creatures: A Novel of the Frankenstein Women on Wednesday, March 16th. 
In other news, below is a sneak peek at the autographed limited edition, which Kris designed. For first dibs at one, sign up for our mailing list.